The outer banks was once considered simply a summer destination for weary vacationers looking to get away from the hustle and bustle that is everyday life and unwind at the highly regarded beaches of the OBX.
During the last half decade or so, travelers have been flocking to the area not only during the sizzling summer months, but also during what is considered the offseason, which is otherwise known as the fall, spring and winter seasons.
With mild winters and a rather pleasant fall and spring, the Outer Banks has been transforming into more of a year-round vacation destination. These barrier islands enjoy around 200 sunny days each year, with a year-round average temperature hovering around 70°.
Wind is an everyday constant on the Outer Banks (the Wright Brothers came here for a reason), and can range from gentle southwest breezes to strong northeast storm winds.
Outer Banks Seasons
Summer
Ah, summer! If you're staying on the Outer Banks during the summer months, expect average lows from the mid 70°'s to highs near 90°, depending on the time of the summer. During this time of year, average temperatures can climb to 85°, but even on the hottest summer days, you can expect a slight to moderate ocean breeze to help keep you cool even though the temperature is scorching. In the summer, the wind typically blows out of the southwest and picks up speed in the late afternoon.
Fall
Considered by many year-round area locals to be the best time of year on the Outer Banks, vacationers should consider a trip to the area if they're at all interested in spending the day outdoors enjoying cool ocean breezes and temperatures in the lower 80°'s in September and mid-70°'s in October. Easily the busiest time of year for events on the Outer Banks, consider planning your trip around the Outer Banks Seafood Festival, OBX Brewtag, Mustang music festival, Outer Banks Bluegrass Festival, or the duck Jazz Festival.
Winter
During the winter, temperatures are usually cool, though the wind can make it feel colder. Temperatures during the day usually hover around the lower 50°'s, with nights averaging in the upper 30°'s.
Spring
Typically a very mild season, temperatures during the spring months can be very unpredictable. Average daytime temperatures are normally in the upper 60°'s and lower 70°'s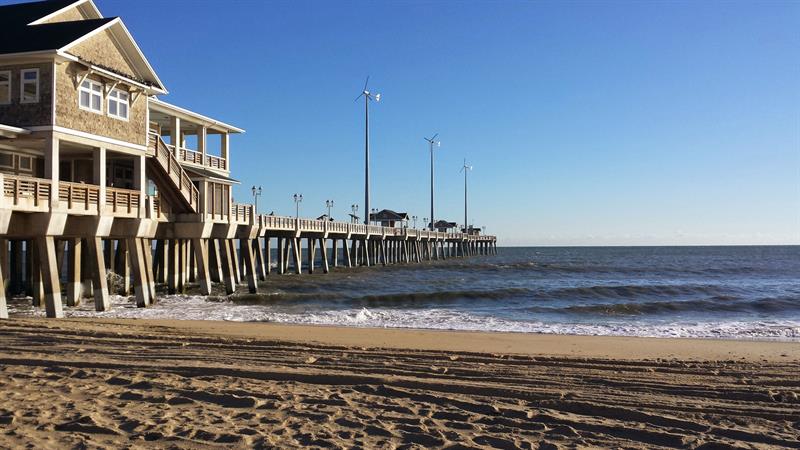 The weather readings below reflect the average temperatures (degrees Fahrenheit), wind velocity (MPH), and precipitation (inches) from Cape Hatteras, NC. These temperatures have been provided by The National Weather Service Newport Office.
---